Posted by Angela Mabray on July 18, 2008 at 8:05 PM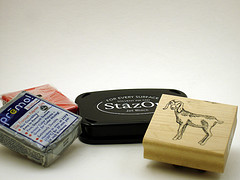 Rubber stamps are handy tools to use with polymer clay. They're easy to find in a wide variety of styles and designs. And there are all sorts of ways to use them with clay, whether you're wanting texture, surface decoration, or some other effect.
Still, all the different types of stamps and inks can be a little overwhelming for folks who are new to stamping. And even if you're an old pro at using rubber stamps with paper, there are a few things you have to keep in mind when you're using them with polymer clay. So I'm starting a series of posts on using rubber stamps with polymer clay. Today we'll talk about the basics, including which inks and stamps to use, tips on release agents, and suggestions for cleaning your stamps.
Inks, Inks Everywhere... But Which Kinds Can I Use?
All inks are not created equal. You need to pay attention to more than just the pretty colors when you pick up an ink pad at your craft store. Here's a run-down of the different types of inks:
Solvent inks (such as StazOn) are permanent on non-porous surfaces, making them a good fit for clay. They can be used before or after baking. These inks dry very quickly and are waterproof after drying; however, the image may still smear if you rub it with alcohol. Bake again after stamping to prevent this.
Pigment inks work on baked clay

ONLY

if you use embossing powder and a heat gun to set. Otherwise, pigment inks will not dry on clay and will smear.
Dye inks don't tend to work on clay, either before or after baking.
Choosing the Best Type of "Rubber" Stamp
The term "rubber stamp" incorporates several types of stamps — some of which aren't rubber at all! Here's info on some of the different types of stamps that are available:
Wood-mounted rubber stamps are the old classics. They're pretty easy to use, but they can cost more than other options. They also take up a lot of storage space once you start collecting them.
Unmounted rubber stamps have the same quality material as wood-mounted stamps, but they're cheaper and take up less space. Some thin unmounted rubber stamps can be run through your pasta machine with clay to get an especially deep impression. Unmounted rubber stamps should be able to withstand baking at clay temperatures, which may give you some additional options for for using them (such as with liquid clay).
Clear stamps are very simple to use since you can see through them to position them precisely. However, they're often not as deeply cut as rubber stamps (depends on the brand), which may make them less useful for texturing clay. You may want to avoid using these with StazOn inks and cleaners, as these products can damage some clear stamps.
To use clear stamps or unmounted rubber stamps, press the stamp into the clay with your fingers, or use a clear acrylic block with double-sided removable tape to temporarily mount them for stamping.
Polymer Clay Brands and Release Agents
Most clay brands work fine for stamping. If your clay is especially soft or sticky, you may need a release agent.
Use a release agent any time you have trouble with clay sticking to stamps. Water or corn starch are good options (read more in my comparison of release agent powders). Some people also like to use Armor All.
One clay brand I don't recommend using is Ultralight Sculpey. It's not good with stamps by itself, as it tends to get stuck in the stamp. BUT Ultralight is good at absorbing inks and other surface treatments. Try combining Ultralight with another clay (I like 2 parts Premo, 1 part Ultralight) to get the best properties of both. Note: Do not use a water release with Ultralight Sculpey; water turns Ultralight into a sticky mess!
How to Clean Stamps

If you're planning to use your stamps later with paper, it's a good idea to clean them after clay use, whether or not you also used inks. Unbaked clay may leave an oily residue that will later make ink bead up on the stamp. There are stamp cleaners available, or you can use a baby wipe soaked with rubbing alcohol.
Clear stamps are usually washable with soap and water. Be careful which stamp cleaners you use on your clear stamps, since StazOn brand cleaners may damage clear stamps.
StazOn inks dry quickly and can permanently stain stamps. You'll need the StazOn brand stamp cleaner to clean off this ink — and you'll need to clean it immediately.
If clay gets stuck in the crevices of a stamp, press a ball of softened clay into the stamp to remove the extra clay.
Hopefully these tips will help stamping newbies feel a little less lost in the craft store, and help rubber stampers feel more confident about which of their supplies they can use with polymer clay. Next in the series, I'll talk about some of the rubber stamping techniques you can use with polymer clay, both before and after baking.
Have any hints on your own favorite inks, stamps, etc. to use with polymer clay? I'd love to hear from you...
Posts in This Series:
Rubber Stamping Basics for Polymer Clay