Posted by Angela Mabray on July 28, 2008 at 11:49 AM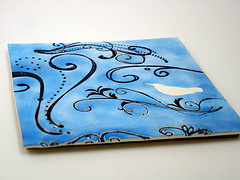 In my previous post, I talked about some of the basic techniques for stamping on polymer clay. Today we're going one step beyond the basics and talking about "masking." Masking is a technique frequently used in rubber stamping, where you cut out a stamped image and use it to block (or "mask") the finish you're applying to the surrounding area. (Here's a nice masking tutorial if you're not familiar with the idea.) For today's project, we'll use a bird mask and chalks to create a coaster from polymer clay.
Materials
1/2 - 3/4 block white polymer clay per coaster
Pasta machine
Clay blade
Deeply-cut rubber stamps (I used Flourishes by Rhonna Farrer and a bird stamp from My Heart Stamps for You)
StazOn ink pad
Card stock
Sharp scissors or craft knife
Chalks and applicator
Stamp cleaner and paper towels
Cork coasters (pre-cut round or square cork coasters are available at craft supply stores, or you can buy the rolls of cork and cut them down to size)
Super glue, Sobo, or a hot glue gun
Instructions
Inspirations & Variations
There's a huge online rubber stamping community, many of whom very generously share their techniques. Try subscribing to a few blogs whose stamping style you like. You might see a technique you can convert to use with polymer clay.
You might also try finding polymer clay techniques you can enhance with rubber stamping. For example, these coasters were based off of faux finish tutorials on Polymer Clay Web:
Keep your eyes open, and you're liable to find all sorts of wonderful ideas for rubber stamping on polymer clay.
Posts in This Series:
How to Make a Rubber Stamped Coaster