Posted by Angela Mabray on May 27, 2008 at 3:19 PM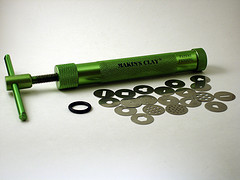 After last week's Polymer Clay Pincushion post, I got a friendly email from Susanna. She asked,
"I just wanted to know if you had any advice on extruding clay using a clay extruder. I have so much trouble pushing the clay out and then cleaning it afterwards! Do you have any tips on how to make it easier?"
Ugh. I knew almost without asking that Susanna was using the old silver plunger-style extruder. I knew that because I lived with my plunger-style extruder for years, and so I recognized her frustration.
I "treated" myself to a Sculpey Clay Extruder not long after I started using polymer clay. "Treated," I say, because it was definitely a mixed blessing. The effects you could achieve with the discs were cool. Some of the shapes would have been very difficult to create without an extruder.
But it turned out they were also difficult to create with the extruder. My hands ached after using that thing. And Susanna's right -- it was difficult to clean. I looked for suggestions online and tried a few. Glass Attic's tip on baking a clay plug to clean the extruder barrel was the most memorable of my failures. That extruder was (literally) a pain to use and a pain to clean.
So I stopped using it.
I skipped over projects that required extruders. I did my best to roll out my own perfect clay snakes when I needed them. I avoided using that old thing whenever possible.
One day, I heard about Makin's Ultimate Clay Extruder. People raved about how much easier to use and clean it was. It sounded interesting, but for the most part, I ignored them. After all, I didn't use the extruder I had, so it was hard to justify buying another.
That's where I was wrong. After I finally caved in and bought the Makin's Extruder, I realized that this is one case where tool quality makes all the difference. I'm no longer reluctant to use my clay extruder. It's so easy to use and easy to clean that I'll pull it out even for small jobs.
Here's an overview of the Makin's Clay Extruder, in case you've been holding out on buying one too.
Pros
Easy to use. Doesn't hurt your hands like the cheaper silver plunger-style extruders.
Easy to clean. The rubber O-ring inside takes care of most cleaning for you.
Nice variety. The included 20 discs give you lots of shape options. If you need more, there are 2 10-disc add-on sets available. You can also buy core adapters, which you use along with your existing discs to extrude hollow shapes.
Cons:
Price. The Makin's Clay Extruder will probably cost you at least twice as much as the cheaper silver type.
For me, the pros far outweigh the cons. Yes, the Makin's Clay Extruder is expensive. But in this case, you get what you pay for. The Makin's extruder is a much better tool, and it's much more enjoyable to use.
Stay tuned in the coming days for an explanation of how to use & clean the Makin's Ultimate Clay Extruder, plus a few tips & tricks on getting the most out of your extruder.
Posts In This Series:
Review: Makin's Ultimate Clay Extruder
Buy the Makin's Ultimate Clay Extruder
now.