Posted by Angela Mabray on May 18, 2008 at 8:13 PM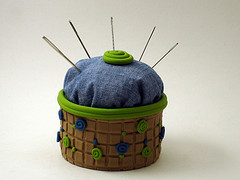 A couple of years back, I bought one of those generic wood-handled sculpting tool kits at Michael's. While I had no idea what most of the tools were for (& still don't for some of them!), I quickly came to rely on its needle tool. I used it for all sorts of things -- poking, cutting and otherwise. It didn't dawn on me for quite some time that I could have easily made my own needle tool. Furthermore, it wasn't til I was working through Katherine Dewey's Creating Life-Like Animals in Polymer Clay that I saw the benefit of having different-sized needles for different jobs.
I stepped out of my comfort zone and visited the sewing section at the store, stocking up on half a dozen tapestry, sewing & knitting needles to work through Dewey's book. And for the last several weeks, I've had these needles sitting casually on my craft desk... the same desk from which things often mysteriously disappear and which cats have been known to raid.
So I was thrilled when I saw this tin can pincushion project by Design*Sponge. Said cats generate more than their share of kitty food cans to use for the project, and of course I like the recycling aspect. I decided to try making a polymer-clay covered pincushion to store my sculpting needles, so they'd be in a slightly safer environment.
Here's how I made mine:
Materials
Clean tin can, such as for cat food
Liquid polymer clay
Polymer clay
Clay extruder
Amazing Mold Putty and old button to make button mold (optional)
Fabric
Poly-fill
Glue gun
Instructions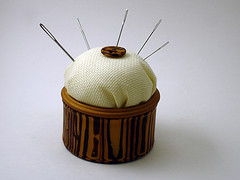 This is a very quick project that you can vary greatly by using different clay and fabric combinations.
And of course, these pincushions aren't just useful for storing sculpting needles. Try making one as a gift for your favorite seamstress or fiber artist.
Not the DIY type? You can also buy these pincushions at my store.