Posted by Angela Mabray on August 1, 2007 at 7:21 PM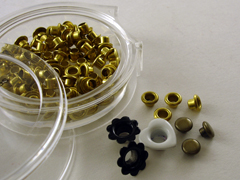 If you do scrapbooking or paper crafting, there's a decent chance you have several colors, shapes & sizes of eyelets in your craft stash. I've shown you a couple of ways to use eyelets with polymer clay -- as a pen tip for the bamboo skewer pen, or as hole reinforcement in the polymer clay notepad. But if you're still looking for ideas on combining these two craft supplies, here's 5 more ways to use eyelets with polymer clay:
Use Eyelets to Finish Beads: Subscribe to Polymer Cafe? If so, check out p. 13 in the Summer 2007 issue. Dotty McMillan shows how she uses eyelets to finish bead holes.
Use Eyelets to Hang Pendants: Eyelets work great for hanging polymer clay pendants. Check out examples from these polymer clay artists:
Use Eyelets with Doll Clothing: Check out Zoya Dubrovsky's Paper Boy sculpture in the ArtDolls.com Gallery for ideas on using eyelets with laces (shoes & otherwise!) in doll clothing.
Use Eyelets as Embellishments: Eyelets look great as the middle of a flower, as "nails" on faux wood, or as multi-colored polka dots. Check out this list of ideas for using eyelets in scrapbooking layouts... many of the ideas would also work well with polymer clay.
Use Eyelets as Eyelets! One of the things eyelets are most useful for in paper crafting is attaching vellum to paper. Try matting a transparent liquid clay transfer onto a sheet of clay, attaching it with eyelets.
Tips on Using Eyelets with Clay
Setting the Eyelet: I like the Crop-A-Dile tool for setting my eyelets. I use the hole punch to punch the right size hole (same size as the eyelet) in my baked clay. Then I set the eyelet -- squeezing gently to avoid putting too much pressure on the clay (it could crack, especially if you're using one of the weaker brands of clay).
Gluing the Eyelet: If you don't have an eyelet-setting tool, or if you're concerned about the possibility of cracking, then gluing may be a better option for you. You need to be sure the hole you punch is exactly the right size, so that the edges of the eyelet can be glued in place. One way is to use the eyelet itself to punch the hole before you bake the clay. Once the clay's baked, dab super glue (I like Loctite Gel) either on the eyelet, or inside the rim of your polymer clay hole. Quickly place the eyelet in the hole.
Remove the Eyelet before Baking: Be careful about baking eyelets in place. I've had a couple of experiences where the clay around the metal cracked during baking. I'm guessing it's because the metal conducts heat better than the polymer clay -- causing it to heat up faster than the clay around it? (Any of you who remember science classes better than me, feel free to correct me here!) Your mileage may vary, of course, but I'd recommend removing the eyelets before baking, then using one of the above methods to re-attach them afterwards.

Best of luck using eyelets in your projects. I'm leaving you with links to a few Flickr photos for more eyelet inspiration: