Posted by Angela Mabray on July 25, 2007 at 7:13 PM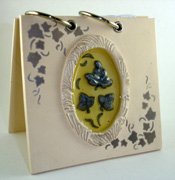 I love my local polymer clay guild -- wouldn't miss a meeting unless I had to! But I have to say I wasn't sure about our last project. Granted, I was eager to learn about how to use Ultra Thick Embossing Enamel (UTEE) with clay. But the project itself was a photo album, and I just don't do photos. Or at least, I don't do printed photos. All my photos are the digital kind, and I'm happy that way.
Guild members Penni Jo Couch and Sue Kerr did a wonderful job teaching. I enjoyed the UTEE, and had a couple of "a-ha" moments with the project itself. But when I brought home my covers, all ready to assemble into an album, it was my husband who offered the "a-ha." Why didn't I make it into a notepad instead of an album, he asked?
I've been needing a notepad for my car ever since my PDA died -- so that's what I did. I made me a notepad. Well, three actually. And I took a few pics of the process in case you want to make one too. (Be sure to check out Penni Jo's original instructions here as well.)
Instructions
Variations
Here's a couple more notepads I've made. The first is the one I made in guild, so it also uses the
UTEE.
The second is a brick notepad I made to match my
recent kitchen projects
.
Thanks again to Penni Jo & Sue for the great lesson. While I originally thought I wouldn't have a use for a photo album, this project turned into something super-fun & ultra-useful. Guess it proves that you always gotta show up & be open to ideas!