Posted by Angela Mabray on June 3, 2009 at 11:35 AM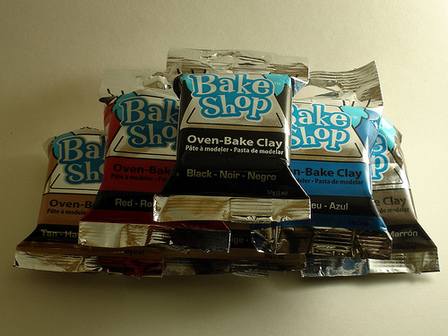 Polyform recently announced their new
Bake Shop Clay
. It's a part of the Sculpey line and is marketed towards school-age children. And while serious polymer clay artists and crafters may not be interested in this clay, many polymer clayers also clay with little ones who
might
be interested in it. So here's my impressions, along with the impressions of 5 little clayers.
About the Clay
Bake Shop clay is non-toxic, lead-free, and phthalate-free. (Interestingly enough, when I asked about the phthlates in their other clays, Polyform's Education Manager Iris Weiss said, "All of our clays comply to Prop 65, almost all are phthalate-free, all of our children's products are definitely phthalate-free.") Bake Shop is sold in individual 2-ounce packets, or in a multi-color sampler pack. Colors include: Red, Orange, Yellow, Green, Blue, Purple, White, Brown, Black, Beige, Hot Pink and Tan.
My Impressions
The Polyform folks are marketing this to kids, not polymer clay artisans, although they point out that they "have seen masterpieces created from Original Sculpey." Good point. So even though I'm not their target audience, I wanted to give the clay a test run myself.
The metallic packaging looks nice, though it means you don't see the exact shade of the clay until you open it. The instructions seemed clear enough for beginners, even including guidelines on how long to condition the clay.
The clay itself is very, very soft, as you might expect from a Sculpey clay targeted at kids. It was as least as soft as Original Sculpey (the stuff you buy in big white blocks), maybe even softer. It actually reminded me of Play Doh in softness, though it was stickier than that. It ran through a pasta machine pretty nicely, even at thin settings. I baked a couple of strips that I ran through the pasta machine to check its baked strength: one at my pasta machine's 2nd-thickest setting and one at its next-to-thinnest setting. It's been a while since I've used Sculpey or Sculpey III (and I don't have either handy now for comparison), but this seemed a little stronger I remembered those being. Both sheets developed cracks after I bent them several times, but they did have some flexibility — not the extreme brittle quality I remember from Sculpey III.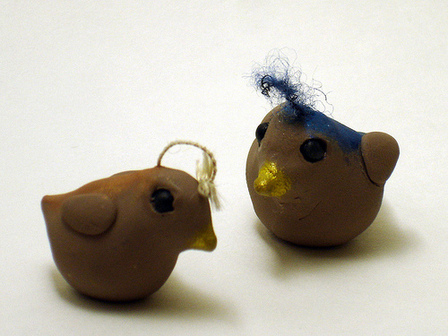 I tried a fairly simple sculpt from Christi Friesen's Birds of a Feather
(reviewed here). While this clay may work well for kiddos, I just didn't have the patience to enjoy using it for even this simple sculpt. It distorted too easily for my tastes. Plus I was hoping to create something without obvious fingerprints (maybe kids are less concerned about that). One up side of a clay this soft is you can brush it with an alcohol-dipped paintbrush at the end to help hide those fingerprints. Still, as soft as it is, the only time I could see myself using this clay is in situations where I currently use Sculpey — for example, mixing it with liquid clay to make a grout for mosaics (in fact, having the clay pre-colored would make that much easier!). In general, though, this clay is much too soft for my tastes.
The Little Testers
But like I said, I'm not the target audience. So I recruited some little testers — kids of artists and crafters I know — to give it a try too. I had a total of 5 kids, aged 4 through 10 try it. And the verdict was unanimous: they all liked it. (Note: I'm using the kids' first initials for privacy.)
"A. loved working with this clay." - Tracey, grandmother of 5-year-old girl
"Z. played with it with a friend who has never used clay before and they both found it very easy and fun to use." - Kellie, mom of 9-year-old girl
"My 4 and 7 year old boys just got done using the clay and I have to say it was a very nice product." - Staci, mom of 4- and 7-year-old boys
"I. really likes the clay." - Andrea, mom of 10-year-old boy
I asked for the kids' feedback on several aspects of the clay: softness, usage, clean-up, and durability. Here are a few of their responses:
Softness
How easy was it for them to condition and use the clay?
"Very easy to condition. It took about 1/4 of the time for her to condition it - which meant a lot less of the conditioning being done by me (for her)." - Tracey
"Very soft and easy to work with." - Z. "It's very, very soft. They sculpted a clown out of it over an aluminum armature and it was very easy to smooth, almost like a paste." - Kellie
"It was softer than Sculpey and therefore easier to condition, though they did whine for my pasta machine, which is what they're used to." - Staci
"It worked up really easily." - Andrea
It seemed like a worthwhile point that parents are the ones doing most of the conditioning for younger kids' clay projects. So an easier-to-condition clay means less work for the parents before the kids can jump in and have fun. I also thought it was neat that 4- and 7-year-olds are used to using a pasta machine to condition their clay, and that the 9-year-olds used an armature for their sculpture. The kids these days are so advanced — just think what they could be doing with polymer clay in a few years!
Usage
Did it take details well? Did one part get distorted while they were working on another part?
No complaints here. Everyone thought the clay took details well. Z. added that there wasn't any distortion. Staci said, "The clay was easy for them to work and took a fairly decent impression, though not, I think quite as good as the regular product."
Clean-up
Was it hard to get colors or clay residue off their hands after using it?
"Easy clean up. Didn't seem to leave as much residue." - Tracey
"It left a noticeable residue on your hands but washed off easily." - Kellie
"Cleanup was a breeze, even taking into account that the boys get a little liberal with the baby powder to keep from getting sticky." - Staci
"Left no icky stuff on his hands." - Andrea
Again, using baby powder to keep from sticking to the clay was a trick I didn't learn for years. Totally impressed with these kids!
Durability
If they had a chance to bake any creations, did they seem pretty strong?
"The end-product seems to be the same consistency as our other clay creations and they seem strong." - Tracey
"I baked the products, which ranged from volcanoes to spacemen to a flat map of North America (my 7yo is a cartography geek), in the requisite 275F oven for 15 minutes and they came out just fine." - Staci
Summary
Adults may not find a lot of use for this clay, other than in situations where they might have already been using Sculpey. But Bake Shop clay is made for school-aged kids, and the kids in that age range really seem to like it. It's easy for them to condition and work with, it's easy to clean-up, and they didn't notice any problems with durability of baked products. For kids who are currently using Sculpey or Sculpey
III,
this clay may be a good choice.
Giveaway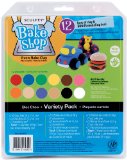 Wanna try Bake Shop for yourself?
I have a
Bake Shop Variety Pack
to give away to one lucky reader.
To enter, fill out the form below with your name, email address, and your answer to the question. One entry per household.
Enter by 11:55 p.m. on June 10, 2009.
Open to
U.S.
residents ages 18 and older. See the "Details" tab for complete rules.