Posted by Angela Mabray on April 24, 2009 at 9:24 AM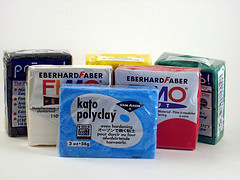 Used to be, we could count on Michaels to put all their polymer clay on sale pretty regularly. Every few months, we'd all stock up on our favorite brands for just 99 cents a block. Unfortunately, the last few times they've only put Sculpey III on sale. If your stockpiles have gotten low while you've been waiting for the next sale on the "good stuff," here are a few options for finding good prices:
Local Stores
Depending on which other stores you have nearby, you may still be able to find a good deal locally.
Hobby Lobby
and
Joann's
still have 99 cent and percent off sales on all brands. Watch their websites or sign up for their email lists to get notified of sales.
If things get really desperate, you could always use the weekly 40% off coupons to buy one block at a time. It's not the quickest way to stock up, but if you're stubborn like me, it beats paying full price!
Online Stores
There are plenty of choices for buying clay online... only problem is that shipping can be expensive. Still, it can be a good option, especially if you prefer the larger blocks of clay, which aren't generally available in local stores.
Here are some prices from a few online stores:
Note: Prices as of 1/2/2013. If a store had both sizes (2 oz and 3 oz) of Kato listed, I used the price for the newer 2 oz bars. Kato metallics and other "specialty" colors may cost extra. Polymer Clay Express, Munro Crafts and Creative Wholesale are the only stores carrying Premo's Cobalt Blue and Zinc Yellow.
Some of the minimum orders may be easier to reach if you can go in together with a clay buddy. If you've got a local clay guild, it's not that hard to reach the $200 order Munro requires for 50% off. And splitting shipping with a friend or two makes it cheaper for everybody.
Ebay may also be an option, with clay often listed for $1/block. Keep an eye out for clay lots, too. You could get a good deal if someone decides clay's not for them.
Bonus Tip: Whether you're stocking up on the sale price at a local store, or making a bulk order online, it's always useful to take inventory first. I like to keep a couple of blocks of the colors I use regularly — more for colors like black, white & silver. So I print off a sheet that lists all my regular colors, then go through my clay box to see which ones I'm low on. Helps when I get to the store — that way I don't end up buying even more Alizarin Crimson Hue when I've already got too many blocks at home.
Got another good place to buy cheap clay? Please leave a comment!