Posted by Angela Mabray on April 16, 2009 at 4:14 PM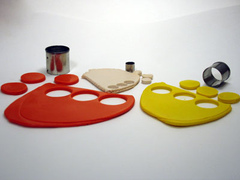 Sometimes, when you need two pieces of about the same amount of clay, you can eyeball it and get close enough. But sometimes you want to be a little more exact. For example:
Making same-sized parts: Earrings look best if they're both the same size (unless you're trying for that uneven look!). Same goes for strands of beads.
Color-mixing recipes: If you're mixing 3 parts yellow and 1 part orange to get the perfect color, it's nice to have a defined size for each "part."
Re-creating previous projects: For products I sell, I like to keep detailed instructions so I can re-create an item. Knowing measurements means it's much easier to make this pair of earrings the same size as the last pair the customer ordered.
Here's an easy way to accurately measure polymer clay:
Roll out a sheet of clay to any thickness you like on your pasta machine. (If you're writing instructions for later, make a note of the thickness you chose.)
Use a cookie cutter to cut out a circle of clay.

For color-mixing, each circle of clay is a "part" — so the cutter's size and shape don't really matter.
Otherwise, make a note of which size of cookie cutter you used. I use a Sharpie to number my cookie cutters, starting with 1 as the smallest, so I can just make a note of which number cutter I used.
Got your own favorite way to measure polymer clay? I'd love to hear it — just leave me a comment!