Posted by Angela Mabray on January 7, 2009 at 6:16 PM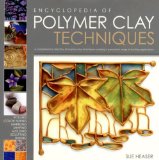 Sue Heaser is one of my favorite polymer clay authors. Her books are always full of interesting techniques and projects, and they're well-illustrated with helpful photos. On top of that, I love the way she suggests related ideas — helping the readers take the next step and brainstorm a project of their own. I usually finish her books inspired, with a whole list of new things to try.
Her books aren't always the easiest to find, though. Heaser is from England, so most of her books were published originally there. (There may even be a few that were published only there.) Many of her books are out of print and can be expensive if you do find them secondhand.
So I was excited to see that Heaser had a new book, The Encyclopedia of Polymer Clay Techniques
. I was also intrigued when someone commented it combined and updated some of her older works (I wasn't sure whether that was a good or bad thing). I finally had a chance over the holidays to sit down with her latest book, and wanted to share my impressions...
Encyclopedic Knowledge
"Encyclopedia" isn't in the title just for fun. This book has a wealth of knowledge. It covers pretty much all of the basics — things like using a pasta machine, sculpting, making Skinner blends, and caning. She also talks about topics that aren't always covered in basic clay books — things like using an extruder, using and making molds, making miniatures, and creating armatures and pose-able dolls. In addition to a great overview of techniques, she also introduces a lot of polymer clay supplies. This ranges from a description of how to use paints and powders to a comparison of the different clay brands' strengths.
This book covers it all, doing so in a well-organized way. It has a nice index, so you can quickly find any topic you're wondering about. (You can't say that about the online "polymer clay encyclopedia"!) The explanations are good, and the photos are clear (though the order can sometimes be confusing — more on that later). In short, this book is a great choice for beginners. I can't think of a common question "newbies" have that this book doesn't answer. I could easily recommend this to a beginner clayer as their primary reference book.
Not Just for Beginners
As I mentioned before, one of the things I like about Heaser is the way she inspires the reader to take ideas a little further. This book has many such prompts. I specifically liked the lists of objects to cover with clay (p. 73) and her list of things to use for stamps and textures (p. 88). The "Try These" sidebars spread throughout the book also have variations on the techniques she's covered. She also includes very practical tips — including tidbits I hadn't seen elsewhere. I feel like these make it more than just a beginner's book.
Another plus is that this book covers such a broad range of topics. If you're primarily a caner, or you've only done sculpting, you'll find in-depth coverage of topics like faux stones or surface embellishments that you might not know as well. I know I found at least a dozen things I wanted to try, including:
Striped Extrusions (p. 29)
Marbled Tube Beads (p. 41)
Baskets and Weaving (p. 52)
Balloon Bottles (p. 66)
Faux Wood Color Recipes (p. 112)
Resin-filled Pond (p. 138)
I think this quote from the intro does a good job of summing up the book's value to more experienced clayers:
"Too often, artists cling to their original genre when diversification would enrich their work and give unexpected insight into new directions. This book is intended to inspire both beginners and advanced polymer clay enthusiasts to explore and develop the myriad possibilities of this wonderful material."
But... Lots of Repeats
While it's a great book, it is in many ways a rehash of Heaser's previous works. Since I don't have the
The Polymer Clay Techniques Book
, I can't say for sure, but their Table of Contents look to be just about identical. I'm sure the
Encyclopedia
has more updated information (i.e., includes some of the newer brands of clay). But as far as the techniques and topics go, it doesn't look like you need to buy the
Encyclopedia
if you already have the
Techniques Book
.
Same goes with Heaser's other books, though to a lesser extent. I know I recognized various project photos from the other Heaser books I own, including Making Polymer Clay Jewelry
, Polymer Clay Mosaics
(which I reviewed here), and Fast Polymer Clay
. If you've you've already collected all of Heaser's books, you're probably not going to find much new here.
Summary
Title: The Encyclopedia of Polymer Clay Techniques
Price: $19.85 + shipping
Pros:

Great information and photos. If you're a newbie (or are trying to recruit a friend to polymer clay), you can't beat this as a reference book.
Wide range of topics. Good suggestions for expanding on her ideas and taking them to the next level.

Cons:

It covers much of the same material as Heaser's previous books.
The order of the step-by-step photos can be confusing: sometimes they go only left-to-right; sometimes they go top-to-bottom, then left-to-right. It's not a big deal, but it can be annoying.

Who It's Good For:

This is a great polymer clay book for beginners. It also has a lot of information and ideas that more experienced clayers will find useful.
If you haven't been able to find Heaser's other books, snap this one up. But longtime fans of Heaser's books won't find a lot of new material here.