Posted by Angela Mabray on July 15, 2008 at 1:43 PM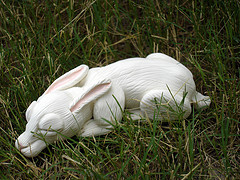 Katherine Dewey's Creating Life-Like Animals in Polymer Clay
book has been on my wish list for a while, so I was thrilled when my sister gifted it to me. I was even more excited when my sister, who's still new to claying and all its possibilities, hinted that she'd peeked inside and was extremely impressed. She started asking about armatures and baking time, and I thought, "Aha! A good book for converting new clay enthusiasts!"
After bringing the book home and trying a couple of its projects, I too am extremely impressed with it. But I'm not so sure it's a good book for new clay-ers.
About the Book
Dewey's book has instructions for 10 different polymer clay animal sculptures, including a mouse, rabbit, seal, bear, dog, fawn, fox, frog, bird, and kitten. Her style is realistic, not the cartoon-style sculptures you find in many polymer clay animal books. And she does a wonderful job of leading you through the creation of these animals. Each animal has 20-40 steps, and each step includes a good-quality photo, leading you gently from ball of clay to finished, painted sculpture.
Not only are Dewey's project instructions wonderful, but she also does one of the best jobs I've seen of going over clay basics. She talks about clay's chemical make-up and leaching in a clear, interesting way. She has a section on making your own tools (and not just the standard stuff, either), plus how to make basic shapes and armatures.
I also like Dewey's painting lessons. She gives great information about going beyond the basics in painting: doing dry-brush coats and color washes, and using tiny little paintbrushes. This book really helped me get my head around some more complex painting techniques.
And she tries to help you take the next step, including instructions for changing the pose and size of the animals (her discussion of volume on p. 116 was illuminating to me). Each project in the book includes several line drawings of the animal, to help you visualize its structure. At the end, she recommends several art anatomy books to use for reference in continuing your animal sculpting.
My Experience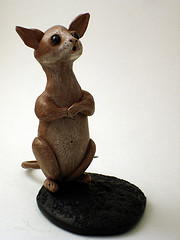 I jumped in and tried the book's first project, the field mouse, right away. I'm pretty new to sculpting, so I learned a lot during that project. Such as... sculpting takes a long, long time (at least for me)! The mouse took me 6 hours to make, not including baking or drying time. Now granted, I tend to be the slow, meticulous type, so your sculpture may go faster. But that leads to one of my complaints about the book. I made some beginner mistakes on that first piece. I misunderstood her measuring method (so my mouse wasn't the right size), then I didn't make my texture deep enough to work well with her painting recommendations. I wish she'd had a more basic project — something that didn't take 6 hours — so I could have figured some of that out with a smaller time investment.
After dragging my feet a bit, I finally tried the book's second project and felt much more confident about it. It still took me 5+ hours (even without the painted finish she suggests), but at least I didn't feel like I'd wasted my time with silly mistakes. She introduced some new techniques in the second chapter, and a glance through the other chapters gives me the impression that she'll continue to build on previous lessons. So while you may not have to do the projects in order, you'll probably need to at least read through some of the preceding chapters to know what you're doing.
I don't feel (yet) like I could take this to the next level and sculpt animals from drawings in an animal anatomy book (or by studying my sleeping cat, for that matter). Maybe that will come with continued practice, but I wish Dewey had included some tips on making that leap. Maybe a chapter with sketches of 4-5 more animals and a few pointers on how to try them on your own...?
If you're ready to invest some time in learning about polymer clay sculpture, you can't beat this book. Dewey's photo tutorials do an excellent job of leading you to a finished product. But if you're interested in quick projects and instant gratification claying, this book may not be for you.
Summary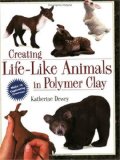 Title:
Creating Life-Like Animals in Polymer Clay
Price:
$16 + shipping (
Amazon
)
Who It's Good For
Intermediate clayers. It has sufficient step-by-step photos for a beginning clayer, but the scope of even the early projects is huge. I'm afraid all but the most determined beginners would get overwhelmed and frustrated.
Clayers interested in learning about realistic sculpture.
Clayers who want to learn how to enhance their sculpts with painting.
Pros
Covers clay basics better than many books.
Great painting tips for folks more comfortable with clay than with paint.
Lots and lots of photos to guide you through the steps.
Cons
Projects are all very involved (mine took 5-6 hours each), making it a poor choice for beginners or impatient types.
I would like to see more of a bridge from the step-by-step examples to making your own animal sculptures.