Posted by Angela Mabray on June 20, 2008 at 5:02 PM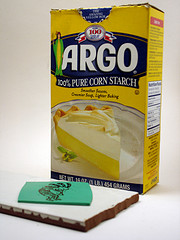 Don't you just hate air bubbles? Your polymer clay piece may look perfect when you put it in the oven, but then those air bubbles appear during baking and ruin the look. There are various ways to prevent bubbles, such as conditioning the clay properly (don't trap air inside clay folds as you run it through your pasta machine), or looking for and popping air bubbles trapped when you're covering something with clay.
But my tip today is specifically for the air bubbles that are created when you're baking a flat sheet of clay — the sort of sheet you might use for stamping or scrapbooking punches or for Artist Trading Cards. I've found that, especially if I work on the same surface I'm baking on, the clay may stick to the baking surface in places. It's easy to trap air in the places where it's not stuck, in which case the sheet may end up as a bubbly and not-so-flat sheet after baking.
Here's how to prevent those air bubbles. Put a light dusting of cornstarch all over your baking tile. The cornstarch will prevent the polymer clay from sticking to the tile, which helps prevent the bubbles.
If you're working and baking on the same tile, try lifting the polymer clay sheet up before baking to make sure it's not stuck. Dust with cornstarch before you replace the polymer clay sheet.
Once you've baked the clay, you'll want to wash and sand off any extra cornstarch, at least if the back of your clay sheet will be visible in your project. That may mean an extra step if you're not normally a sander. Still, I find this is much easier than trying to sand down the air bubbles that would otherwise appear on the project's surface!
I've been dusting my baking tiles with cornstarch for a while now and have noticed a definite improvement. Give it a try & let me know if it works for you!