Posted by Angela Mabray on May 9, 2008 at 3:23 PM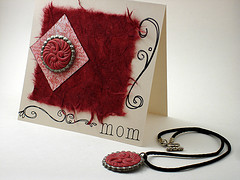 Still looking for a gift for mom? Look no further than your craft supply stash! Here's an easy way to make a matching card and necklace — perfect for Mother's Day or any other time you need a quick handmade gift. The card features a bottle cap button embellishment made from polymer clay, and the necklace features a matching pendant.
Materials
Buttons. Raid that button jar to find a design you like. The large ones (just about the same size as the inside of the bottle cap) work great.
Amazing Mold Putty or molding compound of your choice
Bottle caps. For this project, I like the fluted ones, which are available in craft stores or online. You could also use recycled bottle caps that you've flattened.
Patterned paper & card stock for the card
Rubber stamps (optional)
Polymer clay to match your paper
Large jump ring, jewelry findings, & cord for the necklace
Tools: hammer & nail, plus assorted paper crafting, polymer clay & jewelry making tools
Instructions
Variations
Try stacking different colors of buttons for a trendy look.
Instead of (or in addition to) a necklace, make earrings or a ring.
Different finishes can give one button lots of different looks. Try adding chalk or Pearl Ex before baking. Alcohol inks, acrylic paints, or clear glazes are good options after baking.
Insert your own variation here. (I'd love to see what you come up with!)
I hope you have a wonderful weekend with your family this Mother's Day!