Posted by Angela Mabray on April 18, 2008 at 8:11 PM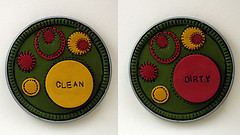 Finally, a crafty answer to that age-old question: Are the dishes in the dishwasher clean or dirty? This project takes a recycled can lid and turns it into a dishwasher magnet with a reversible Clean/Dirty indicator.
Supplies
Can Lid: The juice lids from the frozen concentrate stuff work great since they already have nice smooth edges. Otherwise, I'd recommend buying the Handy Can Opener for about $8 at

CVS

(also available online). The nice thing about this brand is it removes the entire top of the can, leaving no jagged edges. Use it to open all your cans & soon you'll have stacks of lids to play with. I toss my lids in my dishwasher's silverware basket to clean them before I use them.
Polymer Clay: I recommend a stronger clay, such as Premo, so nothing breaks if it happens to fall on the floor.
Magnets: You'll need two magnets. The first should be the little-bitty super-strong type (for inside the reversible indicator). The second should be a standard strength magnet (for the back of the lid).
Liquid Clay
Tools: Pasta machine or brayer, clay extruder, cookie cutters, clay knife, letter stamps
Super glue: I like Loctite Control Gel
Instructions

There are lots of options for using can lids with polymer clay. If you create something cool, let me know. I'd love to see what you come up with!
Of course, can lids aren't the only recycle-able you can cover with polymer clay. Check out this list of things to re-use and recycle with clay. And stick around for more Earth Day ideas!
Psst! Not a crafter? You can also buy these dishwasher magnets in my store.