Posted by Angela Mabray on October 22, 2007 at 11:48 PM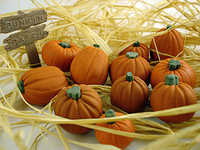 Making polymer clay pumpkins is simple -- and they make for a quick & easy Halloween decoration. This week, I'm going to give you a few tips on creating your own pumpkins, starting with the basics:
Making a Simple Polymer Clay Pumpkin
Materials
Polymer Clay: (I prefer Premo brand)

Orange & green (required)
Brown & white (optional)

Tools:

Toothpick or other pointy-stick tool
Clay gun (optional)
Instructions
Mix & condition your clay. Premo's orange is a nice pumpkin color right out of the package, but I added a pinch of brown and white to mine to get a softer shade. You'll want to condition a 3/4" - 1" ball of orange for each pumpkin.

You'll also need a little green-ish clay for the stems. I used equal parts green, brown & white for my stem -- but plain old green would work fine too.

Start with the stem. (You were expecting me to start with the pumpkin, weren't you? Nope. We're starting with the stem, & I'll tell you why in a minute.)

There's a couple of ways to make a stem. If you have a clay gun, use the pictured disc to extrude a long green snake. (I like to add a couple of extra indentions on the sides.) If you don't have a clay gun, roll your clay into a long snake & use your toothpick to add some texture to it.

Once you have a long thin stem log, you're ready to put it in the oven. Don't cut it to size yet! Let this bake according to the manufacturer's directions while you start working on the pumpkin.

The reason I recommend baking the stem first is to make it easier to push it into the pumpkin later without distorting it. Plus it works especially well if you're making multiple pumpkins -- you can bake one long (1-2") stem and slice off a piece for each pumpkin.

BUT

if you're short on time -- or just don't want to mess with two baking cycles -- you can skip this bake and set your stem aside for now.
Shape your pumpkin. Roll your clay into a pumpkin shape. Pumpkins come in all sorts of shapes, so anything goes here!
Add lines. Press the tip of your toothpick into the center of the top, then roll the toothpick straight down, pressing against the side. Repeat all around the pumpkin. You might want to study a real pumpkin or pumpkin photo first to make your lines more realistic. To me, the lines look like fabric, gathered at the top. They're deeper close to the stem, then fade out as they get further away.
Add the stem. Use a sharp blade to cut through your stem log. Then press the stem into the top of the pumpkin. If you're using a baked stem, you'll notice that just pressing the baked clay into the unbaked pumpkin creates a nice, realistic indention. You'll also be able to press the stem in without worrying about distorting it. If you're using an unbaked stem, though, you can always fix distortions by re-shaping it once it's in place.
Bake.
If you're making a whole pumpkin patch, consider varying shapes & sizes. You might also try varying the amount of white you add to your clay mix, so you end up with slightly different shades on the pumpkins & stems. And remember, not every pumpkin in the patch is perfect... so if some of yours turn out crooked, it's more realistic!
Stay tuned for more pumpkin fun this week. And if you do make a pumpkin (or a whole patch of 'em), consider taking a photo for the Polka Dot Creations Color Challenge. But hurry -- the word on Lisa's blog is that she's picking the winner soon!
Polymer Clay Pumpkin Series:
How to Make Polymer Clay Pumpkins