Posted by Angela Mabray on January 1, 2007 at 9:20 PM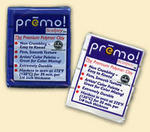 Polymer Clay Central has announced their January 2007 Challenge theme: Blue and White. Mail your entries in by January 15, 2007, for a chance to win one of three gift certificates to Clay Factory.
I love the broad themes they use for their challenges. It allows you to interpret the challenge any way you want -- plenty of creative liberty. I always enjoy looking at the entries people send in and voting for my favorite.
But even though I love the idea, I've never actually entered a challenge. It's one of those things that sounds like fun, but I've never gotten around to it. I think I'll make it a goal for the New Year to enter at least a few times.
What about you...? What kind of crafty goals do you have this year?