Posted by Angela Mabray on October 31, 2006 at 1:36 AM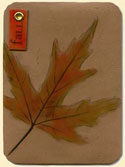 When I signed up for my first polymer clay Artist Trading Card (ATC) swap last month, I thought to myself, This won't be like all the other things I sign up for... I won't wait til the last minute this time.
Ever the optimist.
This morning -- with whole hours to spare before the mailing deadline -- I put the finishing touches on my 4 fall-themed ATCs. For the most part, I was pretty happy with the results. I used a leaf to make the impression, then filled the veins with undiluted Ranger alcohol inks for a dark outline. I used Kato PolyClay Clear Medium mixed with the alcohol inks to paint some glossy autumn colors on the leaf. I transferred "fall" (MigraineSerif font) onto a beige clay plaque, then painted it with more Kato medium/alcohol ink mixture. Then I punched a hole and added the eyelet.
Two notes:
Don't try to set eyelets in cured polymer clay. Sure, that may sound like common sense now... but my excitement at a chance use my practically-new Crop-a-Dial overwhelmed my better judgment. Not that it caused any immediate problems. It was only when I tried to bake it with the eyelet in place that I started seeing some cracking on some of the pieces. I'm guessing the heat caused the metal to expand just enough to cause problems. Fortunately a little

TLS

/clay grout seemed to take care of the problem sufficiently. Still, just gluing the eyelet in place would have saved me a lot of trouble.
I'm really liking the alcohol ink mixed with Kato's clear medium. I especially like the plaque since it's similar to a chipboard effect I'd been wanting to try with polymer clay transfers. I like the glossy, colorful finish, with un-colored edges barely peeking out. I haven't tried sanding this yet -- I might be able to distress the edges a little more if Kato's clear medium is easier to sand than

TLS.
The swap was organized by Nina, a fellow member of the excellent Polymer Clay People Yahoo! group. I'm looking forward to the ATCs I'll be receiving in return -- I wonder if the other folks sent theirs at the last minute too? Or is it just me, holding up the whole group...?
Oh, well. I'm sure I'll do better next time!