Posted by Angela Mabray on October 17, 2006 at 11:45 PM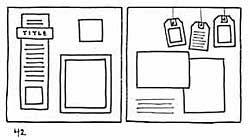 While I'm not much of a scrapbooker, I love this free random layout challenge generator from Creating Keepsakes. You specify the categories (e.g., color combinations, shapes, embellishments, layout sketches, etc.) you want included in your layout challenge -- and they'll generate a random challenge for you. Most of the categories work just as well for cards, ATCs, or other paper crafts.
I like the way tools like this give me a set of guidelines to create within. Maybe it just helps get the creative juices flowing -- no starting with a scary blank page. Or maybe it gives me a challenge -- I start wondering what I can make that's creative and unique, starting with these set guidelines. Whatever the reason is, it's something I definitely enjoy. Here are a couple of my favorite products for sparking creativity:
The Joy of Card Making [aff] has sketches -- they call them "recipes" -- for card layouts in several standard card sizes. Each recipe includes various examples of finished products for more inspiration. (There's also a Joy of Card Making: A Second Helping [aff] that I haven't tried yet -- it's on my Christmas list, though!)
Deluxe Cuts Card Templates are fun little plastic templates for various card layouts. The templates make it a little easier to trace and cut out the paper shapes.
Do you have anything special that inspires your creativity? Leave me a comment -- I'd love to hear about it!